[-Sunday, February 22, 2009-]
Post No: #781

KFC breakfast is disgusting...

I had the scrambled eggs with waffles set, and...the egg is overcooked and so powdery it's like, pollen or something.

The waffles...were so hard and tasteless, I think cardboard tastes better.

One good thing, I saved 5 cents cause the meal was $6.15, but I only had $6.10 on me, so the 5 cents was waived! Like omg, I saved 5 cents from a lousy breakfast!!!! 0.o"

I miss Pancake Manor...

-Logged off-
Labels: Food
-..Wonders Of Today..-
0 Callbacks
['-Ah_Ying-'] ;3:21 AM;
[-Thursday, February 19, 2009-]
Post No: #780

Heading back to Aussie soon!! And I am pretty glad I managed to meet almost everyone I wanted to meet here, i.e. Hans, Bobby, Yeleng, Jessica and even Yang Hao. XD

Well, the exact date and time would be 23rd Feb, Monday, 9.55am~

So I will get to Brisbane at about 1935 hours (or 7.35pm) on the same day according to Singapore Airlines.

Last round of meet up sessions I suppose, yesterday with Jessica, tomorrow with Hans, Yeleng and maybe Talisa, and the rest probably with my folks. Definitely having dinner at/with Grandma's with the whole family either Saturday or Sunday...WHEE~ Chilli Crab? XD

No updates recently cause there's been absolutely nothing much going on! I mean, sure, I met up with Hans and Yeleng, and Jess and Yang Hao and all those other people, but I didn't take photos, or not enough for a blog post. So I will compile them sooooooon, maybe after I get back to Brisbane.

Hmmm..Still have a few things I have to get here before heading back.

okay, feats:

There is this photo I must mention, but doesn't have an embed tool so I will just leave the link here:

Splash by Davenit. It's actually just a very simple shot of an 8-ball dropped into water to cause a splash but it's immaculate!


you will never find it by =MalvaAlcea on deviantART


Donut Panic Comp by ~Capttylor34 on deviantART
Mr. Apple Love by =fhrankee on deviantART


Stay Focused II by =Sortvind on deviantART


The Lost Highway by *Toope on deviantART

-Logged Off-
Labels: DeviantART, Everyday's Post, Features, Photos
-..Wonders Of Today..-
0 Callbacks
['-Ah_Ying-'] ;7:37 PM;
[-Monday, February 02, 2009-]
Post No:#779

Hey people listen up! Many of ya will know that I am a fervent reader of Kenny Sia,


and recently he has a donation "drive" going on, so I just wanna tell you guys about it and see if you are able to lend a helping hand.

Basically, Kenny Sia will go bald (botak) if he is able to raise RM 50,000 (or more) through his blog, for the Sarawak Children's Cancer Society (click link).

To read more about why Kenny is doing this, click HERE.

The objectives of this function:
1. To raise the awareness of childhood cancer to mark the International Childhood Cancer Day on February 15, 2009
2. To provide moral support to children with cancer by shaving your head bald
3. To raise RM 200,000 in aid of SCCS objectives and programs.


SO now, time for you to decide if you are gonna donate: (by cheque, bank deposit, paypal/credit card or cash)

(Click on banner to donate!!)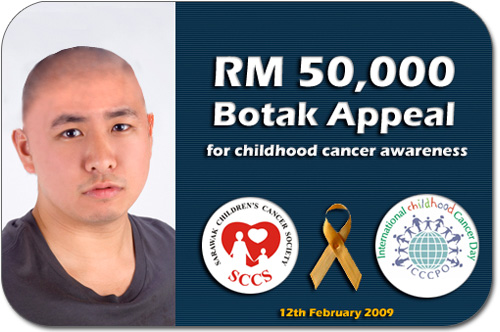 Well, I have made a donation with part of my Ang Pao/Gambling money from Chinese New Year, and I am sure you can too~! Come on, someone's willing to go BOTAK FOR CHARITY while others are complaining that they have to shave their heads when going into the ARMY! So...SUPPORT LAH!

-Logged Off-

-..Wonders Of Today..-

0 Callbacks

['-Ah_Ying-'] ;3:52 PM;
Introduction
Hi! Welcome to my blog.
This is the area where I rant and rave about everything and anything going on in my life.
If you are looking for recipes, the links to each single recipe will be located before the archives, just scroll down a little.
Usually, I talk about what's been going on in my life, my cooking, or my latest buys/holiday trips.
Time to time, I will introduce new websites that I find interesting, and online shopping haunts.
I make my own blogskins, and I do submit them onto blogskins.com. You can find them
HERE
Thats about it!
On Twitter
Tunes

Artist: Tracy Chapman
Song: Fast Car



About Me
The Girl- Ying Xuan A.K.A Karie
The Age- 22
The DATE- 25th Nov'89
The Hometown- Singapore
The Location- QLD, Australia
Interests- Travelling, Music, Cooking, Acoustic Guitar, Piano, Snorkelling, Jet-Ski, DOGS, Reading...
Recipes

Meals + Snacks:
;Chicken Curry
;Da Pau (Meat Buns)
;Gyozas (Potstickers)
;Honey & Tumeric Wings
;Lamb Burger
;Shrimp & Chive Dumplings
;Steamed Prawns with Garlic Oil
;Tamagoyaki (Jap Omelette)

Sweets & Cakes:
;Chocolate Fudge Cookies
;Egg Tarts
;Individual Cheesecakes
;Ondeh Ondeh
;Oreo Cheesecake

The Memories

September 2005
October 2005
November 2005
December 2005
January 2006
February 2006
March 2006
April 2006
May 2006
June 2006
July 2006
August 2006
September 2006
October 2006
November 2006
December 2006
January 2007
February 2007
March 2007
April 2007
May 2007
June 2007
July 2007
August 2007
September 2007
October 2007
November 2007
December 2007
January 2008
February 2008
March 2008
April 2008
May 2008
June 2008
July 2008
August 2008
September 2008
October 2008
November 2008
December 2008
January 2009
February 2009
March 2009
April 2009
May 2009
June 2009
July 2009
August 2009
September 2009
October 2009
November 2009
December 2009
January 2010
February 2010
March 2010
April 2010
May 2010
June 2010
July 2010
August 2010
October 2010
January 2011
March 2011
August 2011
January 2012
February 2012
March 2012
April 2012

Talk To Me

Links

;Ah Bing's Blog
;Benjamin's Blog
;Faizah's Blog
;Irene's Blog
;Ivy's Blog
;Samantha's Blog
;Victoria's Blog

Other Blogs
;Kenny Sia's Blog
;Ladyironchef
;Sparklette.net
;Xiaxue's Blog

My Other Stuff
;My Blogskins
;My DeviantArt

['-Credits-']
Skin By:Scorpiona
Custom Image by: Ho Yan Hao, Singapore
Coding: With help from w3schools.com