[-Saturday, November 01, 2008-]
Post No:#738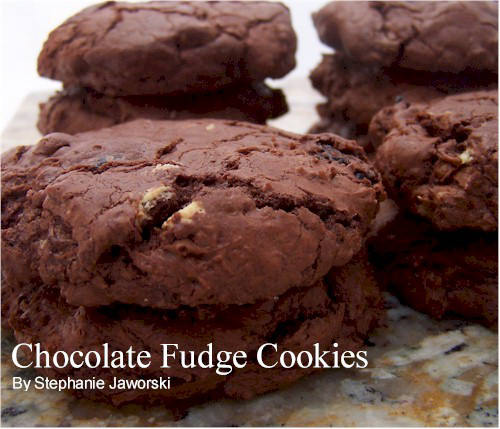 Photo from Joy of Baking.

Today's post will be about the Chocolate Fudge Double Chocolate Chip Cookies that I made today!! If you are gonna try out the recipe, I warn you, it's extremely rich with chocolate and you might want to share them cause if you eat them all, you will definitely get a sore throat. The original recipe is at Joyofbaking: Chocolate Fudge Cookies.

AND! They are soft cookies like the ones at Mrs.Fields, not crunchy like those of Famous Amos.

List of Ingredients! Makes 12 large cookies



- 1 block (250g) Dark Cooking Chocolate
- 1/8 Cup Unsalted Butter, Melted(24g)
- 1 Teaspoon Vanilla Extract
- 1/2 Teaspoon Salt
- 1/2 Teaspoon Baking Powder
- 1/4 Cup Self-Raising Flour or Cake flour (23g)
- 85g White Chocolate Chips
- 85g Milk/Semi sweet Dark Chocolate Chip
- 56g Roasted Walnuts
- 2 Eggs
- 7/8 Cups Sugar (175g)

STEPS:
-Sift the salt, baking powder and flour into a small bowl.

-Coarsely chop (or break) the cooking chocolate into smaller pieces.
-Melt the chopped chocolate in a bowl seated in a pan of boiling water, add the melted butter. Do not melt it over direct heat as the chocolate will burn.
-Once a smooth thick paste is form, turn off the heat and leave it in the pan of hot water to prevent from solidifying again.


-Crack 2 eggs into a bowl
-Add sugar to the eggs and beat with electric mixer until a thick mixture is form. The mixture should fall back in ribbons when you lift the mixer.

-Add in the chocolate mixture and continue beating till fully combined.
-Add in flour mixture fold in with a spatula or spoon till just incorporated.
-Add in chocolate chips and walnuts, combine.


(No more pictures after this, I got lazy. XD)

-Up to the moment the mixture will still be like batter and must be chilled so that it's firm enough to handle.
-Cover with cling flim and chill in the fridge for about 30 to 45 mins.

-Pre-heat oven to 177 Degrees Celsius. (360 degrees Fahrenheit)
-Using a spoon, scoop out tablespoons of "dough" onto baking pan lined with baking paper.
-Wet your hands and flatten the top of the cookies, to form 9cm rounds.
-Leave a space of about inches between the dough bits.
-Bake for 12-14 minutes until the top of cookie is shiny & dry and has cracked slightly. Don't overbake them.

-Remove pan from oven and leave it to cool.
-They will be fragile at this point, and still a little wet inside.
-Once cookies can be handled without breaking, transfer to a cooling rack and allow to cool completely.

Then you can enjoy them! If you want to, you can chill the baked cookies in the fridge before eating as well.
-Logged Off-
-..Wonders Of Today..-
0 Callbacks
['-Ah_Ying-'] ;10:22 PM;
Introduction
Hi! Welcome to my blog.
This is the area where I rant and rave about everything and anything going on in my life.
If you are looking for recipes, the links to each single recipe will be located before the archives, just scroll down a little.
Usually, I talk about what's been going on in my life, my cooking, or my latest buys/holiday trips.
Time to time, I will introduce new websites that I find interesting, and online shopping haunts.
I make my own blogskins, and I do submit them onto blogskins.com. You can find them
HERE
Thats about it!
On Twitter
Tunes

Artist: Tracy Chapman
Song: Fast Car



About Me
The Girl- Ying Xuan A.K.A Karie
The Age- 22
The DATE- 25th Nov'89
The Hometown- Singapore
The Location- QLD, Australia
Interests- Travelling, Music, Cooking, Acoustic Guitar, Piano, Snorkelling, Jet-Ski, DOGS, Reading...
Recipes

Meals + Snacks:
;Chicken Curry
;Da Pau (Meat Buns)
;Gyozas (Potstickers)
;Honey & Tumeric Wings
;Lamb Burger
;Shrimp & Chive Dumplings
;Steamed Prawns with Garlic Oil
;Tamagoyaki (Jap Omelette)

Sweets & Cakes:
;Chocolate Fudge Cookies
;Egg Tarts
;Individual Cheesecakes
;Ondeh Ondeh
;Oreo Cheesecake

The Memories

September 2005
October 2005
November 2005
December 2005
January 2006
February 2006
March 2006
April 2006
May 2006
June 2006
July 2006
August 2006
September 2006
October 2006
November 2006
December 2006
January 2007
February 2007
March 2007
April 2007
May 2007
June 2007
July 2007
August 2007
September 2007
October 2007
November 2007
December 2007
January 2008
February 2008
March 2008
April 2008
May 2008
June 2008
July 2008
August 2008
September 2008
October 2008
November 2008
December 2008
January 2009
February 2009
March 2009
April 2009
May 2009
June 2009
July 2009
August 2009
September 2009
October 2009
November 2009
December 2009
January 2010
February 2010
March 2010
April 2010
May 2010
June 2010
July 2010
August 2010
October 2010
January 2011
March 2011
August 2011
January 2012
February 2012
March 2012
April 2012

Talk To Me

Links

;Ah Bing's Blog
;Benjamin's Blog
;Faizah's Blog
;Irene's Blog
;Ivy's Blog
;Samantha's Blog
;Victoria's Blog

Other Blogs
;Kenny Sia's Blog
;Ladyironchef
;Sparklette.net
;Xiaxue's Blog

My Other Stuff
;My Blogskins
;My DeviantArt

['-Credits-']
Skin By:Scorpiona
Custom Image by: Ho Yan Hao, Singapore
Coding: With help from w3schools.com