[-Sunday, December 31, 2006-]
Post No:#437
Alright this post...To round up 2006.
The Best Of 2006: Food
Best International Buffet: Orchard Meritus Mandarin Hotel, Triple 3.
Largest International Buffet Range: Shangri-La Hotel, The Line.
Azuma Japanese Restaurant
5 Koek Road #03-01 CUPPAGE PLAZA
Tel : 6738-9395
-Best Sashimi
-Best Sushi
-Best Shabu Shabu.
*Very Pricey, but VERY good!
Sakuraya Fish Mart, Parkway Parade.
-Best Budget Japanese Sashimi
Genki Sushi.
-Best Budget Sushi Chain
Lei Garden Resturant. Located at Chimes.
-Best Dim Sum

Tak Po Cafe, 42 Smith Street.
-Best Budget Dim Sum
Best (NEW) Chinese Food: Asian Kitchen, VivoCity.
Seletar Hill Restaurant.
-Champor Tea Smoked Duck
-Szechuan Chilli Fish
-Ma-po Tofu
-Mango Pudding
-Durian Pudding
Jerry's BBQ and Grill (Jalan Kayu outlet)
-Brownies with Ice Cream
-Deep Fried Mushrooms
-Chocolate Fondant
-Grill Dory Fish
-Premium Lamb Grill
Best Korean BBQ: Korean Charcoal BBQ Restaurant,
27 West Coast Highway #01-18/19 Yess Centre 1F.
Tambuah Mas Indonesian Restaurant, Paragon Shopping Centre.
-Chendol
-Satay
-Deep Fried Fish (With either Sambal Petis or Spicy Coconut Sauce)
Most Romantic Ambience: Top Of The M, Meritus Mandarin Hotel (Orchard)
Best Cheap Set Lunch: Cafe Cartel.
Best Custard Puff: Beard Papa's
Best Corokke: Corochan's Corokke
Best Service Crew: The Cliff (The Sentosa Resort And Spa)
Most Sought After Dessert: Chocolate Fondue

Most Sought After Restaurant: The Cliff Restaurant, The Sentosa Resort And Spa.
I think thats about it for food...
Best of 2006: Movies
Christmas Movie Of The Year: Deck the Halls
Comedy Of The Year: The Holiday

Movie of The Year(Foreign): Death Note 1&2
Movie Of The Year (Local): I Not Stupid 2 (duh!)

Movie Of The Year (English): Too Fast Too Furious: Tokyo Drift
Movie Of The Year (Dance): Step Up
Movie Of The Year (Thriller): Final Destination 3 (Right?)

Movie Of The Year (Suspense): Lady In The Water? (Is that suspense??)

Movie Of The Year (Romance): The Lake House
Movie Of The Year (Action): Long Hu Men (Dragon Tiger Gate)
Movie Of The Year (Animation): Cars
Movie Of The Year (Retarded): Borat...
Best Of 2006: Others
Local Clothes Brand: Flesh Imp
New Clothes Brand: Pull And Bear
Sports and Skate Shoes: Nike
Magazine (Teenangers): Teenage
Magazine (Teenage Girls): Seventeen
Hair Salon: Heatwave
Alright lets end this here. I am getting tired. For music reviews go visit Halif's blog. He has a super detailed list. Hahas.
-Logged Off-
Labels: Food Reviews, Reviews
-..Wonders Of Today..-
0 Callbacks
['-Ah_Ying-'] ;11:35 PM;
[-Saturday, December 30, 2006-]
Post No:#435

Wow, my second last post (most probably) of the year. And I am going to start dissing people.

Let's see, I should probably start with AuditionSEA cause there are all kinds of weird desperados inside. There are people that miss a dance move and will make others miss by typing "aaaawwwwwwww!", which will appear on the middle-left of the screen. First time its funny, second time its distracting, more than that and it becomes annoying. Its NOT cute, so people should get that in their heads. Its the same concept of...let's say, you are doing titration for your chemistry test, and this person goes "Oh shit!" for some dumb reason, and you just look over there, and you miss the change in color, which in turn, causes you to fail. Thanks but no thanks.

THEN, when these people loses and get second or worse, they go like "Sian LAH, du lan lah..." which basically means "So irritated/pissed off LAH." but you know what? If half the time they didn't type something when they missed, they could have gotten the second step when it came. But no! They have to type something and then when they miss the second one, they type something again and it becomes a damned cycle.

Then there are the desperados that go like "I like your hair/clothes/shoes, can send to me as a gift??" HELL NO! Are you crazy or something?! "I will return you the money?" and how the hell are you going to do that Mr.wise guy? You can't send Dens (the currency in the game) or A-Cash (the other currency which you get by buying game cards) through the game you idiot. Unless of course you are going to return me the same hair, which is illogical cause you can easily buy your own, so why should I give you mine?

Then there are those that win a game and goes like "Oh, I only miss 1..." Umm, you think we care? No, not really. You are just proving to yourself that, Hey! I only missed 1, and I got first! Whee! How fun! Let's do it again! Then there are those that get super high scores when they win, and they go like "Wah! my score is 345,953! Must take screenshot." Once again, you think we care? Or are you just trying to show off that you got a highscore? Keep it to yourself you bloody arrogant people.

Noobs...(Note: to me, noobs are not people that are lousy in the game, but those people that does stupid things, like those above.)

-Logged Off-
Labels: AudtionSEA, Games, People
-..Wonders Of Today..-
0 Callbacks
['-Ah_Ying-'] ;11:46 AM;
[-Friday, December 29, 2006-]
Post No:#434

0.0"...Heya people.

Wanted to update earlier this week, but due to the Taiwan Earthquake, I couldn't. Cause internet was down as some cable there was snapped due to the earthquake. Only managed to log in today.

But strangely enough, I was still able to log into AuditionSEA! People were like asking each other questions and I found out that many of them were not able to use the Internet or MSN Messenger (even though there was connection). The most they got was the Yahoo! front page and that was it!! 0.0", so weird right. I must say something though, its lucky that Indon was not the one that got the earthquake that caused internet failure, otherwise, probably everyone will be cursing the Indons cause, well, they cause too much trouble. Hey, I am not dissing them here, its the truth, just think about it.

Anyways, about AuditionSEA, I finally decided to take the License and proceed to level 6 after 1.5weeks of being stuck at Level 5. Guess I will stick at lvl 6 for the time being till I get better and am able to complete 120bpm songs without any misses, and learn to use the Chance function. I am so totally not making sense here to those that don't play Audition, so I shall be nice and explain.

1)License: Is something that when you reach Lvl5, that you need to take to proceed to lvl6 and from then onwards every level you want to proceed to. There are certain criterias like a minimum score and amount of perfects and combos.

2)Chance function: When you use this function to play, your score can be increase by up to twice the amount if I am not wrong. The only thing is, like for example if there are directions for you to press, some of them will become red(normally they are blue) and for those, you have to press the opposite direction. So yea, that totally slows down my brain.

3)120bpm: BPM stands for Beats Per Minute. The higher the number the faster the song and the lesser time you have to press the directions.

Anyways, since I am bored here are some screenshots that I took from AuditionSEA. Of course these are my personal high scores. Heh...Very lousy, I know. If you think these scores are good, you should take a look at Jason's scores. He can have up to 11 combo and 30+ perfects with zero cools, misses and bads.

Thats my character, in one of my favourite stages/maps.

Hee...If you play Audition, look for me at Novice or Free servers. But make sure I know you first. -.-"...
In AuditionSEA there are also people, that look for online girl/boyfriends. Who the hell is as desperate as that?! Or maybe they are just looking for people that will buy from the game clothes and accessories. Who knows. There was this guy, who was in the same room as me and 2 other girls. And you know what, the first thing he said when he came in the room was:
"Can be my girlfriend?!"
*no one replies*
"Please, XXXXXXXXXXXXX. By my GF!"
*...no one replies*
"Please, I need a GF!!"
*Girl replies*"If you win the next rounds"
*Guy*"ok"

Game starts and he lost 3 rounds in a row. 0.0"...Too bad. Then I went and created my own room, and after a few rounds with others. He came in and said:
"Can be my GF pls? I buy you anything you want..."
"see first, I play with you 3 rounds, if you win 2 rounds then ok."
*He loses the first 2 of course. Duh...*
I went and asked Jason to join my room and play cause this guy was like super pestering LAH. So Jason came in and the first thing he said was "God, he is ugly..." (Jason was using a female character). Then cause there was this other guy in the room so that other guy went like "who??" and Jason said "not you." And then the pestering guy went like "Who?!" and Jason said "The one talking...". And that guy, went offline. LOLZ.

Jason so evil...But that character was indeed ugly.


-Logged off-
Labels: AudtionSEA, Events, Everyday's Post, Games
-..Wonders Of Today..-
0 Callbacks
['-Ah_Ying-'] ;5:27 PM;
[-Monday, December 25, 2006-]
Post No:#433

Here's what I have to say:



Okay, now stop bugging me. =P

-Logged Off-
Labels: Celebrations, Everyday's Post, Photos
-..Wonders Of Today..-
0 Callbacks
['-Ah_Ying-'] ;7:28 AM;
[-Saturday, December 23, 2006-]
Post No:#432

Okay, heres an update.

Been rather busy actually, playing this game called AuditionSEA. Jason introduced it to me, and now I am hooked to it!!

Anyways, I think I shall skip talking about the supposedly interesting things that happened at the office 5 days ago. The only thing you need to know is that, I was stamping the papers (rubber ink stamps? The ones that the customs officers used?) and when it came to the date, all of a sudden I realised I stamped the date 35th March 2006 on around 15 pages of paper... Oh and the papers were so grateful, that, I ended received 2 paper cuts from them. How nice...

There's going to be a wedding dinner to attend tonight, then tomorrow I am supposed to meet Ting Ting, Mandy, Xuan'er, Rick, Shane and his girlfriend for KTV and Christmas countdown!! The last time I met this group was when...Chinese New Year!? So there will be things to update. =D...Photo taking!!!

Anyways, do you know why it's raining so frequently recently?? Cause Rain (the Korean singer) is coming next month!!

-Logged Off-

*Now Halif has resourceful reading material. YAY!* hahahas...
Labels: Everyday's Post
-..Wonders Of Today..-
0 Callbacks
['-Ah_Ying-'] ;2:11 PM;
[-Monday, December 18, 2006-]
Post No:#431

My latest obsession!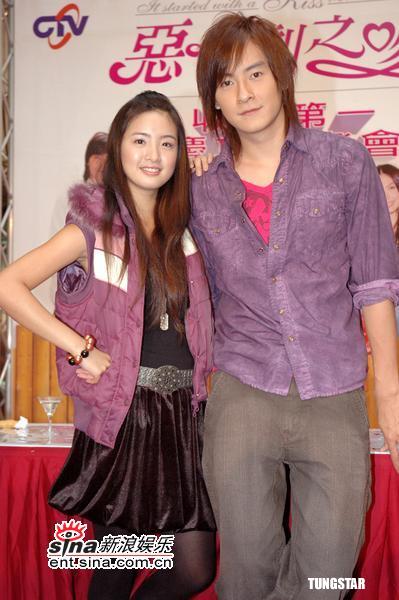 Please huh, its the GUY. He stands at 188cm CAN?!! And he's a freaking MODEL/Actor. Like duh...Anyways...Part 2 of It Started With a Kiss (恶作剧之吻) is coming out next year's Sept. Thats what drama-wiki.com said. I WANT I WANT I WANT LAH!!!!

OMG OMG...Sssssssssssmoking! Lolz...Please ignore me.

-Logged Off-
Labels: Everyday's Post
-..Wonders Of Today..-
0 Callbacks
['-Ah_Ying-'] ;8:36 AM;
Post No:#430

Alright. I just got home from the dinner for my grandma's birthday. You know what? The food sucked. Honestly, we have been to that place many times and each time the food was not bad, but today, I didn't even felt like having my favourite Chilli Crab. Let's put it this way...There was more shell and sauce than meat.

Nothing much happened, had dinner, then left. Was lazy to put on make up and everyone were telling me what I should and should not do to prevent pimples. How considerate...thanks ar! I think next time I will just cover up with powder LAH. Its like, they don't want you to put on make up, but they keep going on and on about your complexion, so what to do? Cover with make up loh. JUST because I use to have a nice complexion, doesn't mean that I won't have breakouts DAMNIT! Just freaking leave me alone! Its my face, my body not YOURS.

Rained the whole day but I slept through most of it cause the headache last night was so bad, I was kept awake till 2am. Went in search for panadol, swallowed one, slept and woke up at 3.30pm. OH, and no one believe it, they think that I was awake till 6am thats why I woke up so late. How convenient...When I sleep late, I get nagged at, I eat medicine and end up oversleeping I also get nagged at. So now what? Should I not sleep and then let them think that I wake up at 7am?! Just get off my back ALREADY!

Talked to Hans last night before I slept. Been some time since I last talked to him, it was okay I guess. Typical conversation consisting of Bobby, me going to Aussie and KBox...But nah, we ain't meeting up anytime soon.

I just want to scream at people that always assume I am doing something wrong, or that everything that happens to my computer is my fault. You think I like having that pop-up everytime I turn on my computer telling me that 1 thing is affecting my system!? I DON'T OKAY?! So freaking go away and find someone else to nag or scold or WHATEVER!

-Logged Off-
Labels: Everyday's Post, Rants
-..Wonders Of Today..-
0 Callbacks
['-Ah_Ying-'] ;12:36 AM;
[-Sunday, December 17, 2006-]
Post No: #429

Whee!! Came home round an hour ago from Joey's place. Was having a Christmas celebration there.

Went to Tampines from my Grandma's place in the afternoon in search of the Christmas exchange present. Didn't get to take a photo of it though. Bought one for Halif's exchange too cause he was too lazy to go look for his own. -.-". Hahas, then met Halif at Pasir ris mrt at around 6, handed him the present for the exchange and took a bus to his place for him to change and also to change the plastic bag for the presents.

Finally reached Joey's place at around 6.45 cause we went missing at Pasir Ris. Ended up having to take a cab from Siglap Secondary to Joey's place, and guess what. The fare was like only 20cents. But due to the original boarding charge and some extra peak hour charges, it was like $4.60!!! 0.0"

Met up with Kangwei, Bernard and Joey at her place and started playing blackjack. Had some pizza and chicken wings then Vivien came. Joey lent KW her laptop and he was supposed to work, but then in the end, we were like watching Russell Peters, Jacky Wu and some Japanese pranks on youtube. Hahas, then we had some jelly and soon it was time for the present exchange!!! Picked numbers and took the gifts. Received a cute mug with coaster! =D.

Had chocolate fondue (Fon-day? or Fon-du?) with marshmallow and fruits, and also the 933 Golden Pillow (bread outside with curry inside). Watched I Not Stupid (the series) on tv and more Japan pranks on Youtube, then came the logcake!! Nice! =D, was super full LAH. Alright, I will put up the photos now, pardon me cause I am lazy to put borders. Also the quality is not good cause somehow, the stabiliser got turned off and the camera was on Macro mode. -.-", plus I was not the one taking most of the photos.


the 3 musketeers...NOT!

KW...busy guy.

Vivien and Halif.

Group photo! KW act cool only (whoops!)

Cute x'mas tree with pressies at the bottom.

Chocolate fondue! FONDUE FONDUE FONDUE!! (chant with me)

Joey's bunny. Halif took a photo with it but it went missing. -.-"

Log-cake!!

Whee! KW and his no shadow arm. Lolz...
Alright, going out tomorrow night for my grandma's b'day celebration and on Monday for BPP. No, not Bukit Panjang Plaza LAH! Bowling, Pool and Pool! =D I am a busy busy busy girl!
Arrgh, I am having headache, neckache and backache. No stomachache though...Gonna sleep.
-Logged Off-
Labels: Celebrations, Events, Everyday's Post
-..Wonders Of Today..-
0 Callbacks
['-Ah_Ying-'] ;1:52 AM;
[-Friday, December 15, 2006-]
Post No: #428

OKAY people. Here's an update finally. Been MIA for some days cause I was rather busy.

Well, cause Jason bought this Drama Series which probably many of you have heard of. Its called 恶作剧之吻, (eng title: It Started With a Kiss). I thought it was just another dumb, typical Taiwan Idol Series. And guess what. I was RIGHT!! It was so dumb and typical that I got addicted to it and finish the whole series in 2 days (30 episodes, 20 vcds). Maybe I will change my skin's theme to that. Hmmm...But seriously, its nice and even though it probably won't happen to me, hey, I can dream can't I? Hahas. I loved the ending LAH.

Anyways, about the happenings these few days.

Tuesday, 12th Dec
Met Halif at Tampines Mall cause he wanted to get a haircut. Proceeded to Century Square then went to look at Storm and Supercuts.


Halif decided he wanted to go to Supercuts. Vivien came and meet us then we both waited for Halif to finish his cut while at the same time, discussing what kind of haircut he should get. Most popular was the afro and bald! Lolz. But the hair turned out really nice! Hahas.


Then we went to Long John Silver's for lunch. Been eons since I last ate there.
Nothing much, we walked about and I saw this obsence gift...
The designers are really careful in the details. -.-"
Took a look at some other stuff like that model with the shaking head above. Headed to Toys'r'us to look for something to get for the present exchange on Saturday. But couldn't find anything...Here are some of the things we saw.


Monkeys with cymbals...
Headless shark. Poor thing..0.0
Thomas the toy train set which the two of them went mad over. Lolz.
OH, and Halif got ELMO-ED! Heh...
Hmmm, went to a few other shops. OH, I bought a bag for $110!!! Kidding LAH, it was a free bag from Kerastase which you will get if you buy $110 of their products. Looked kinda nice and since I was restocking my shampoo and conditioner, I got it. Took a train back with Halif cause Vivien was leaving from Tampines. Then took bus 88 back from Pasir Ris interchange. Heh. Thats about it.

Thursday, 14th Dec
Went out again on Thursday. Met Kangwei, Joey, Vivien and Bernard at NTUC Fairprice TM then headed to the food court (where Sadiq came) cause some of us have not eaten, but it was full, so decided to go to Pastamania, which was ALSO packed. Decided not to eat, and went to the arcade where they played Daytona USA, then Halif came, then Vivien and Bernard started playing with the Para Para machine. Hahas, Bernard got a perfect score LAH. 0.0"...
Went to GV and bought some snacks cause we were going to watch the movice Eragon. The dragon baby so CUTE LAH!!! And Halif owes each of us a baby dragon, don't ask me where he's going to get it. And Kangwei was going like "I will name my daughter Saphira." Which was the name of the dragon. -.-"
Walked around then headed to KFC where we had early dinner. Sat there and talked and talked, then while we headed to Century Square's arcade, Halif left cause he was sleepy. Played Time Crisis 2 there, another ancient game which I have not played for some time. Tried my luck on onof those prize games and won...NOTHING. Lolz. Left after that and took bus 72 from tamp interchange while KW they all left on train and Vivien took another bus.
Went to my Grandma's place where my mum came and picked me up. Ended up falling asleep cause I was too sleepy. Hahas...Woke up and had late dinner there then left for home. I love my grandma's curry!! Gonna go there tomorrow afternoon before going to Joey's party at night. Have yet to think of what to get, guess I will go to TM or White sands tomorrow to search for something.
Wheee!
-Logged Off-
Labels: DVDs, Everyday's Post
-..Wonders Of Today..-
0 Callbacks
['-Ah_Ying-'] ;11:46 PM;
[-Monday, December 11, 2006-]
Post No:#427
Alright peeps. This is going to be another food review.
Had dinner with my whole family tonight. Mum was craving for Korean cuisine, and we decided to go to
Ju Shin Jung, Korean Charcoal BBQ
located opposite Haw Par Villa.
It claims to be the house of Authentic Korean Charcoal BBQ. And from what I can taste, it really is! It's as close to Korea as you can get in Singapore. There were many Koreans having their dinner there too, and it was close to fully booked.
Heres the list of items we ordered:
Ala Carte:
-Ja Ban (Grilled Saba Fish): $15 X 1
-Bo Ssam (Steamed Pork with Special Kim Chi): $30 X 1
-Pa Jun (Korean Pancake with Seafood):$20 X 1
-Dol sot Bibimbap (Mixed Vegetables and Rice with Chilli Paste in Hot Stone Bowl): $14 X 1
-Sam Gae Teng (Korean Ginseng Chicken Soup -With glutinous rice-): $16 X 2
-Bi Bim Naeng Myun (Cold Noodle with Chili Sauce): $12 X 2
Charcoal Grill:
-Dae Ji (Marinade Pork): $20 X 2
-Sum Gab Sal (Fresh Pork Belly): $20 X 2
-Mo Deum Bo Sot (3 type Mushroom Combo): $10 X 1
And of course there were side dishes


Total Damage was around $275 for 6 people. Free flow of water and tea.
Anyways, back to the food.
Ala Carte Menu:
The Seafood Pancake was good, and was like the one that I had in Korea. Crispy too! Bibimbap was good, but then again, you can never go wrong with bibimbap and I felt that there was nothing special about it. The Ginseng Chicken Soup was so-so, not fragrant enough though it was close to the one I had in Korea as well. Grilled Saba Fish was too salty and really kinda dry. Pork with Special Kimchi was good though, not too spicy, just the way I like it, and the pork was well cooked. The cold noodle with chili sauce, from what I could tell from my brother's expression was that, the noodle was undercooked and tough, and it was too spicy.
Charcoal BBQ:
The Fresh Pork Belly was well, really fresh and didn't have a porky smell to it. But it was rather bland and tough/dry compared to the ones in Korea, though both are not marinated. The Marinade Pork fared much better and I really prefer it over the un-marinated version. It was jucier, softer and was more like the actual Korean one. Mushrooms were fresh and well cooked, juicy and succulent. Oh, and by the way, a waiteress cooked the food for us.
Now, about the decor and whatnot:
When I stepped into the place, I got reminded of Korea immediately. You can choose the tables where you will be seated on chairs/benches, or the ones where you seat on the floor, which is more traditional. Whereas, the ventilation system COULD have been a little better, Jason got so much smoke into his eyes that he was sniffling and tearing...IF you seat at the benches, remember this, those that don't go to the toilet often seats on the inside, and the benches are movable. I think they could have made it more convenient, cause if you seat on the inside, you prolly can't exit from your side and have to make everyone move out when you want to enter or go out. But you have your own private "booth" if you get the benches. Service was good, patient and smiley.
My own verdict on this place is that, if you love Korean food, you will find the food here expensive, but worth it. Its really authentic and the food is good. I will give it a 7.5 out of 10.
Address:
KOREAN CHARCOAL BBQ RESTAURANT
27 West Coast Highway #01-18/19
Yess Centre 1F Singapore 117867
 
Business hour (Open everyday except Monday Lunch)
Lunch 12:00 ~ 2:30 (Last order at 2pm)
Dinner 6:00 ~ 11:00 (Last order at 10pm)
Telephone: 6464-0872 (Better to reserve)
-Logged Off-
Labels: Food Reviews
-..Wonders Of Today..-
0 Callbacks
['-Ah_Ying-'] ;1:49 AM;
[-Saturday, December 09, 2006-]
Post No:#426

Alright peeps. Sorry for the late update on Vivocity. Anyways, this will be a long post, and filled with photos. So here goes:

Met Talisa yesterday at Plaza Singapura for lunch at Cafe Cartel.
Food as usual was good there. But the Texas Ranch Mushroom Sauce tasted like B-B-Q sauce instead. After lunch, we walked around abit, went to The Body Shop to buy a blusher brush. This brush is good can?! All soft and picks up just the right amount of color. Gonna save up for a face and highlighting brush from them. Left for Vivo at around 3.30, and saw this:


SK Jewellery I suppose...
Anyways, we went to Vivo. And damn it was freaking HUGE LAH! A kid can get lost there for days can?! Walked around and checked out shops like Gap, Pull and Bear, Chomel and Marks and Spencer. My verdict on- Gap : The store smells too strongly of the parquet flooring, and made my nose itch. Clothes were kinda typical, the tees didn't attract me, but the jeans seem nice, though they cost $99. -Pull and Bear: Store is well decorated and organised, guys clothes on one side, and girls clothes on the other. I think the tops and bottoms there fare better than Gap's.
Talisa bought a pretty necklace from Chomel. But I didn't get anything cause the things there didn't quite go with my usual dressing. Hmm, proceeded outside to the "boardwalk" and fountain areas to take some photos. Take a look:
WTF?!
Okay thats enough photos...For now. Hmm, watched Cinderella. Omg, that show is freaky LAH. Never gonna go under the knife for plastic surgery. But the story is actually quite saddening. The ending kinda reminded me of Dark Water though. But before the credits rolled, everyone thought it was fine, but then suddenly, something appeared and gave me a shock. Jumped at least 3 times during this movie LAH.
Proceeded to have dinner at a place where Talisa's friend introduced. Its called Asian Kitchen. The food was really good, service crew are also patient and smiley. Though I would prefer if they gave me an extra plate for the bones.


Xiao Long Baos were cheap and good, the skin was thick enough so it won't tear and empty the soup in the dumpling, but not tough. Banana fritters with red bean paste was a little bland if you eat it like that, but nice with the syrup given. The pork ribs rice was good too, but then there was more bone then meat. -.-". The Asian Kitchen is located at B2, beside Thai Express.
After dinner, we went out to the fountain area again. And took more photos!
Hmm, then we took a train back to Sengkang where Talisa took a bus home and I took a cab. Reached home at around 11pm, and watched HBO with my mum...
OH, I went for dinner at Parkway Parade just now. And it was another huge place. Neh neh...But dinner was real good. Had Japanese cuisine at this place called "Sakuraya Fish Mart", it sells many things from Japan, and on the inside, there is a place for people to sit and dine. The sashimi we ordered were really really fresh!! And the sushi set was delish too. The quality of the food is really worth the price, if not more. Its located at B1, in between "The Cocoa Trees" and "Swissbake".
Thats about it.
-Logged Off-
Labels: Everyday's Post, Food Reviews, Photos
-..Wonders Of Today..-
0 Callbacks
['-Ah_Ying-'] ;11:57 PM;